★★★★ - 'The jokes owe a lot to the very British school of japes and wordplay, with a number of Blackadder-style similes stretched wonderfully far beyond breaking point. Douglas Adams' voice is heard, as is Grant/Naylor's, with a pinch of Men Behaving Badly's Simon Nye. This is a comedy writer brought up right, learning from the best, but allowing himself his own spin on things... I came away from the play thinking there were a lot more stories to be told with Tyler and Gary. Not only that, but I rather hope to see more of them.' - Gareth Alexander, Views from the Gods. Full article here.
Dead Static was chosen as one of Fringe Review's Top 5 Theatre Recommendations for the 2012 Camden Fringe. You can read their interview with writer/director Steve Jordan here.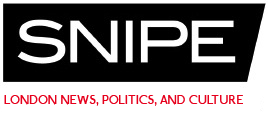 'Cliff Chapman as Tyler and Adam Joselyn as Gary are two excellent clowns in what is not quite as existential a play as Waiting For Godot, but certainly even funnier a space comedy than Red Dwarf. If author Steve Jordan is actually aiming for a worthy TV pilot then he has one. If enough episodes could be written as brilliantly (and performed as well) then he would have the makings of a classic series.' - Alan Hindle, Snipe London. Full article here.
'A brilliant hour... Strong performances and a pace that constantly varied but never flagged, swinging from broad comedy to a key moment of pathos. A bickering odd-couple Huis Clos, in space.' - Steve Gallagher, author and screenwriter, creator of Eleventh Hour.
'Red Dwarf channeling Steptoe and Son... Cliff Chapman as Tyler and Adam Joselyn as Gary, kept up the pace and ratcheted up the tension to the last moment... Steve Jordan has produced a show full of pop culture references and one-liners as well as a crackling energy.' - Carmel Shortall, Camden Fringe Voyeur. Full article here.
'... moments of charm, sophistication ... surprisingly funny with its use of clever vocabularies and keen science fiction knowledge. - Rocky Rodriquez, What's on the Fringe.