★★★★ - 'The jokes owe a lot to the very British school of japes and wordplay, with a number of Blackadder-style similes stretched wonderfully far beyond breaking point. Douglas Adams' voice is heard, as is Grant/Naylor's, with a pinch of Men Behaving Badly's Simon Nye. This is a comedy writer brought up right, learning from the best, but allowing himself his own spin on things... I came away from the play thinking there were a lot more stories to be told with Tyler and Gary. Not only that, but I rather hope to see more of them.' - Gareth Alexander, Views from the Gods. Full article here.
Dead Static was chosen as one of Fringe Review's Top 5 Theatre Recommendations for the 2012 Camden Fringe. You can read their interview with writer/director Steve Jordan here.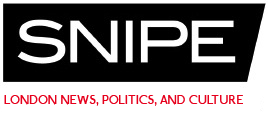 'Cliff Chapman as Tyler and Adam Joselyn as Gary are two excellent clowns in what is not quite as existential a play as Waiting For Godot, but certainly even funnier a space comedy than Red Dwarf. If author Steve Jordan is actually aiming for a worthy TV pilot then he has one. If enough episodes could be written as brilliantly (and performed as well) then he would have the makings of a classic series.' - Alan Hindle, Snipe London. Full article here.
'A brilliant hour... Strong performances and a pace that constantly varied but never flagged, swinging from broad comedy to a key moment of pathos. A bickering odd-couple Huis Clos, in space.' - Steve Gallagher, author and screenwriter, creator of Eleventh Hour.
'Red Dwarf channeling Steptoe and Son... Cliff Chapman as Tyler and Adam Joselyn as Gary, kept up the pace and ratcheted up the tension to the last moment... Steve Jordan has produced a show full of pop culture references and one-liners as well as a crackling energy.' - Carmel Shortall, Camden Fringe Voyeur. Full article here.
'... moments of charm, sophistication ... surprisingly funny with its use of clever vocabularies and keen science fiction knowledge. - Rocky Rodriquez, What's on the Fringe.
Writer/director Steve Jordan discusses Dead Static in a brief interview for Fringe Review.
How is this show different?
Dead Static brings together a great science fiction concept, an against-the-clock atmosphere, and an angry, biting sense of humour - three things that you don't often find together onstage. We have two fantastic leads in Cliff and Adam, who have great comedic chemistry and are making my lines a lot funnier than they have any right to be. Dead Static is first and foremost a comedy, but I wanted to create two characters that audience could love/hate enough to care about what happens to them. This isn't a flippant sf parody, there's a real story taking place that I hope will entertain the audiences that support the Camden Fringe.
You can read the complete interview as well as words from other Camden Fringe performers here.
' ... deeply absorbing – to the point where much of the time I was barely conscious that these were 'performances' at all ...  A Hero's Journey is an affirmative act of bloody-minded creation. What it left me thinking about was the writers' own comments on their work in the programme notes: "they thought it might be a good idea to let their writing see the light of day.  They don't know if it was a good idea yet."  For what it's worth, I'd say this play was definitve confirmation that it was.'  -  James Monroe, On the Fringe. You can read James Monroe's excellent review and plot analysis in its entirety here.
'The audience certainly enjoyed the geeky innuendos and references, which provided some entertaining moments and, for this reviewer, a few belly laughs ... a surreal and dark look at the life of a nerd.'  -  Jack Badley, Fringe Review.
'Solid work performed with authority to full houses by an excellent pro cast.'  -  Stephen Gallagher, creator of Eleventh Hour and the writer of Doctor Who serials 'Warrior's Gate and 'Terminus'.
' ... a number of entertaining and comedic moments ... The character of Rosie, who attends a creative writing class run by Mathew is a joyous and entertaining pink haired addition to the cast ... there are well crafted elements within the writing ... It would be interesting to see where Jordan and Baker take their writing next as there is promise within the script.'  -  Andrew Taylor, Remote Goat.
' ... a feisty performance from Ellen Gallagher ... and a delightful one from Chapman as the phantom Dr Who.'  -  Harold Loxton, British Theatre Guide.
Yorkshire Evening Post has published an interview with our heroic lead Richard Jackson. It's a very nice plug for the show, and also a good laugh when you consider the subject matter.
'The play is hotly-tipped to become a television sitcom and the pilot will be filmed after the performances ... 'Richard, 28, said: "When I got the role I was so pleased. Television is what I want to move into, so to know I could be a part of a TV show is very exciting."'
We can neither confirm or deny this rumour. Well, we can, but we won't. We're not that stupid. You can read the interview between Richard and Juliette Bains here.